a-GEO L2-IMU is the first ever super-mini triple-frequency Full GNSS RTK receiver with standard IMU!
It's pheonomenal as a network rover, due to it's outstanding performance and it's small weight. The ability to capture points without the need of leveling the pole, make it the ideal receiver for urban surveys, minimizing the need of a total station.
a-GEO L2-IMU is a fully functional GNSS receiver, which can receive and use almost all available constellationss such as GPS, GLONASS, BEIDOU, GALILEO & QZSS, and is set to a much-convenient update rate of 5Hz - standard setting.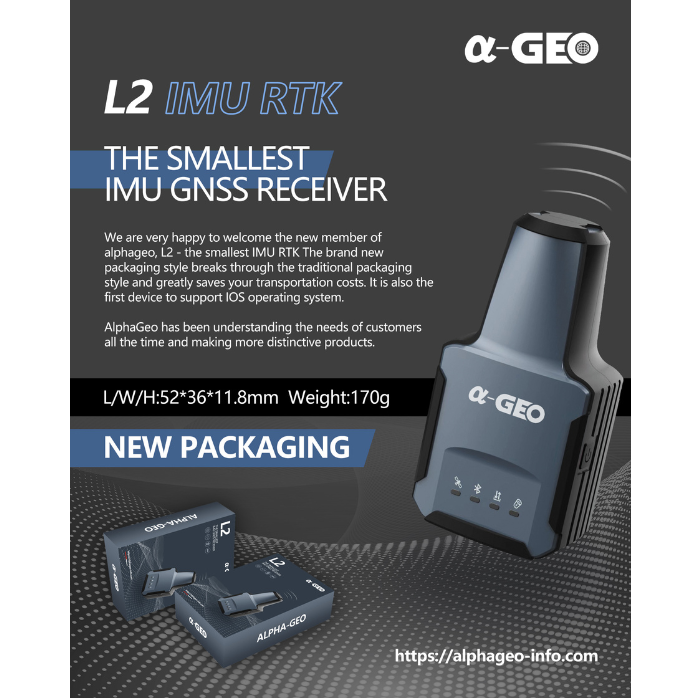 Small and extremely lightweight (only 170gr) allows all-day long usage without exhausting the carrier.
The accuracy matches that of much more expensive models, reaching up to 8mm+1ppm (horizontal) and 15mm+1ppm (vertical), making the receiver ideal for almost any type of surveying job and construction layout.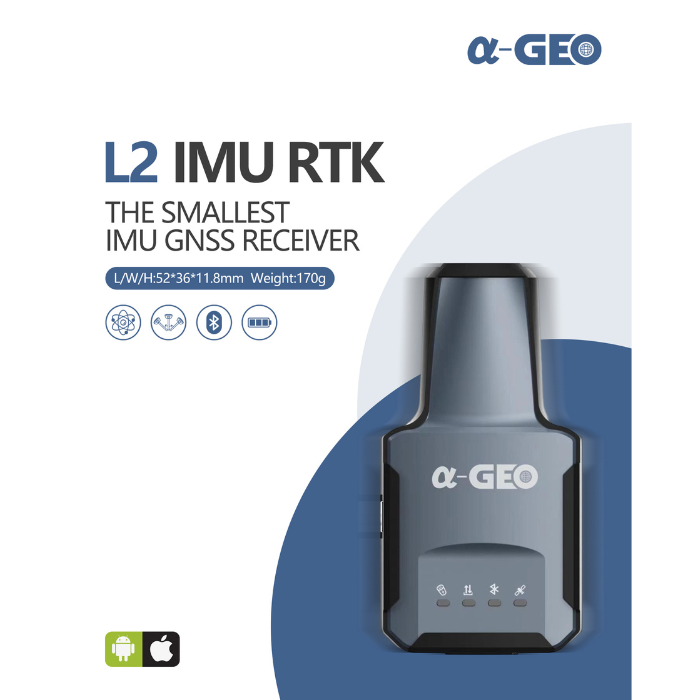 Points of interest:
a-GEO L2-IMU supports BEIDOU / GPS / GLONASS / Galileo / QZSS and SBAS.
Utilizes a state of the art GNSS chipset, the famous UNICORE UM980 (1408 channels)
RTK accuracy: H:8mm + 1ppm •••

V:

15mm + 1ppm
Outstanding IMU performance, immune to magnetic disturbances
IP67
10+ hours RTK
Compatible with Android & iOS
The above price is for receiver only; You can purchase the rest of the items at will:
SurPro 6.0

Controller

Pole
GNSS Performance
Board
Unicore UM980 high precision GNSS chipset Based on 1408 channel Nebulas IV GNSS SoC
Channels
1408
IMU 60°
YES, 90°
GPS
L1C/A,L1C,L2C,L2P(Y),L5
GLONASS
L1,L2
BeiDou
B1I,B2I,B3I,B1C,B2a,B2b
Galileo
E1,E5a,E5b,E6*
QZSS
L1,L2,L5,L6*
Update rate
5Hz standard
RTK accuracy
H: 8mm + 1ppm V: 15mm + 1ppm
Communication - Connection
Bluetooth
YES
UHF radio
NO
USB Type-C
For direct charging
Ruggedness
IP
IP67
Operating Temperature
-20℃ ~+75℃
Storage Temperature
-40℃ ~+85℃
Free drops
2m
Battery
Built-In
Yes
Capacity
8.4V / 1800mAh
Charger type
USB Type-C
Dimensions
Width
35mm x 56mm
Height
108 mm
Weight
170gr